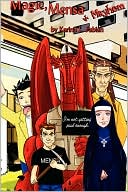 Magic, Mensa, and Mayhem
by Karina L. Fabian
I will be writing a review later for this very entertaining book, but today I am handing over the "mic" to Karina as a guest blogger. Take it away, Karina!
Caprice asked me to talk about writing funny. She told me that
Magic, Mensa and Mayhem
had her laughing out loud. Thanks, Caprice--there's nothing more satisfying to humor writer than knowing her book brings out a chuckle. (Unless it's drawing the big royalty check--a gal can dream.)
Anyway, she wanted to know how I come up with these crazy ideas, puns and other jokes and silliness.
In part, it's genetics. I grew up with a dad who was not afraid to imitate a cuckoo clock if it would make my friends and me giggle. (Imagine an overweight man with shaving cream slathered over half his face bowing out the bathroom door saying, "Cuckoo! Cuckoo!") he told us jokes, juvenile and intelligent, and let us feed on a wide variety of humorous television--form Oggie Doggie to (I cringe to say) National Lampoon. My mother is from Puerto Rico, so English is her second language. Humor is difficult for her still, but she was always ready to laugh, and I inherited that sense of fun, too.
Puns came from a love of language and an exposure to media that played with it--from Saturday morning cartoons to Piers Anthony's Xanth novels. I was employing puns in my schoolwork even in elementary school--some were truly awful, but you can only do so much with spelling words, and the teachers appreciated the effort. In high school, puns and jokes helped me to break the ice and make friends--especially when I joined Speech and Debate and discovered my "people."
Even so, when I first started writing, I didn't do a lot of crazy, pun-filled stuff. I have a fantasy trilogy and several sci-fi stories that have a few fun moments, but not the hilarity of DragonEye. Thus, I blame DragonEye pretty firmly on Vern.
Vern, the cynical dragon detective living on the wrong side of the Interdimensional Gap, was created after I watched a film noir skit on the comedy improv show, "Whose Line Is It, Anyway?" I adored the combination of wry humor and the noir feel. The first story, "DragonEye, PI" (in Firestorm of Dragons, DragonMoon Press) is amusing with more twisted clichés than puns. Many of the short story mysteries are semi-serious with a lot of familiar myth and legend being told in an unfamiliar way, narrated in Vern's own snarky, sarcastic style.
Magic, Mensa and Mayhem
, however, seemed to call for something more silly. In the first place, I started it as an amusing exercise and a favor to a friend, Shirley Starke, who edits the North Dakota Prairie Dawg. She wanted a serial mystery, told in 1000 word increments. Since I wasn't sure I could or wanted to carry a serious plot that long, I decided to weave the mystery into one ridiculous circumstance after another. It was fun watching Vern having to deal with pranking pixies, star-struck dwarves, and the brownies on a cleaning spree. I studied the Mensa World Gathering program, asked Mensans for in-jokes and thought a lot about how to make Vern's life pretty miserable. Frankly, however, once the characters came onto the stage, they created their own mischief. I just had to keep up!
There are a lot of great humorists out there who can make anything funny. I'm not sure I can or that I want to be that kind of person. However, there's some magic in the DragonEye, PI world that lends itself to the farcical, and as long as it keeps me and my readers laughing, I'll keep letting it pull me into its spell.
Thanks, Karina! I'll be back later this month with my review. (I've been sewing costumes for my daughter's school production of Pirates of Penzance without sleep, so I'm a bit too loopy to be writing a review at the moment.) Please enjoy the rest of the stops on
Magic, Mensa, and Mayhem's
Virtual Book Tour
.
Buy
Magic, Mensa, and Mayhem
at
Barnes and Noble
,
Amazon
, or straight from the publisher,
Swimming Kangaroo
.