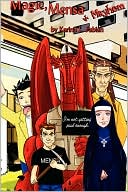 Magic, Mensa, and Mayhem
by Karina L. Fabian
Laughing out loud has a bad rep these days. Internet shorthand might have started out meaning what it stated. But LOL now seems to be interchangable with the smilie :) and I've seen it used in places where I might have translated it something like "Hardy-har-har". So when you get a book like
Magic, Mensa, and Mayhem
, that really DOES make you laugh out loud, how do you express that without it sounding cliché? I DID indeed laugh out loud while reading this book. It's witty, sassy, cynical, and extremely funny.
Knowing Vern, the 8-foot dragon, was a detective, I expected there to be some sort of crime to solve. While there was some mystery in why the powers-that-be from back home in Faerie assigned him and his partner, Sister Grace, to babysit at a mundane Mensa convention in Florida, it wasn't as serious as a murder. Well, so much the better! You don't have to feel guilty about laughing as you might when something heinous has occurred. The "crimes" Vern and Grace come upon are things like invisible brownies who mischieviously tidy things up when no one is looking (are these available for rent?) and nymphs who take over the hotel garden pools and eat the koi.
Don't get me wrong. Throughout the hilarious mayhem that Vern has to handle (while not getting paid enough for a dragon's treasure-loving heart) there is enough of a threat of interdimensional war to keep the plot from descending into Seussian silliness. This keeps it engaging for adults, while still completely appropriate for younger readers. I think this book would do well in the YA market.
If you're looking for a light-hearted read, full of laughs, puns, and fun, then look no further than
Magic, Mensa, and Mayhem
!
Check out the rest of the stops on
Magic, Mensa, and Mayhem's Virtual Book Tour
.
Buy
Magic, Mensa, and Mayhem
at
Barnes and Noble
,
Amazon
, or straight from the publisher,
Swimming Kangaroo
.