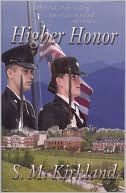 Higher Honor
by Susan M. Kirkland

This month, CFRB presents Higher Honor by Susan M. Kirkland.
Before we start, I should admit that I never really thought of myself as a fan of "military fiction", but probably not for the reason you'd expect. I have nothing but the deepest respect for American military personnel. However, because military stories are often about war, I'm on my guard for dry, impersonal descriptions of battles or endless violence and gore. Too depressing. However, that said, I enjoy tales which emphasize intelligence, strategy, and successful ops perpetrated with minimal force.
However, Higher Honor is not really about military ops at all. It's a romance/rape recovery/college-buddy-story which just happens to be set at a military college. While I guess "military fiction" fits, I think this book would appeal to a much larger audience if we could find a label which applies to fiction the way the word "Drama" applies to television. Can we call a piece of literature "drama" when it's not a stage-play? I don't have a good suggestion for an alternative, but I think lots of people who would enjoy this book might very well miss it because they'd assume military=war.
I should also 'fess up that I know nothing about military colleges. I didn't even know they existed outside of West Point, Annapolis, and the Air Force Academy. The setting is different and almost exotic because it's so unknown to most of us, but it's definitely not a war zone.
It's hard to talk about Higher Honor without spoiling the story, but I'm going to try. This is a story about five college buddies, two female, and three male. One of the males rapes one of the females and she doesn't report it. I must have screamed at the book at least ten times, urging this fictional female character to come clean, rat out the scumbag, and let her friends twist his head off! (They would have, too). But of course, nothing makes for better plot twists than a web of lies, not only the ones that the victim has to tell school officials in order to miss classes while recovering from inflicted injuries, but the lies she keeps telling herself, that she did something to deserve it.
But two of her the five friends are a Christian couple (the female is the victim's roomie) who never stop praying for their unsaved friends. Their faithful prayers are rewarded, little by little. Somehow, Ms. Kirkland even pursuades her reader to start pulling for the rapist! That's no small feat because I started on the side of the other two males who, when they didn't know his identity, wanted him beaten to a bloody death, strangled, and then shot for good measure. It's a tribute to the careful weaving of the story that the author slowly brings this angry young man to see what harm he's done and then actually move toward reconciliation.
Read Higher Honor. The author's careful portrayal of a vast array of human emotion will have you weeping, wincing, growling, stomping, and cheering.
Visit Susan Kirkland's Website.

Purchase Higher Honor at Barnes and Noble and Amazon.

Check out these other member blogs this week for more info.