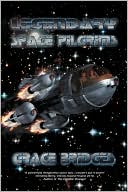 Legendary Space Pilgrims
by Grace Bridges
This month, CFRB presents
Legendary Space Pilgrims
by Grace Bridges.
About the Book:
If Pilgrim's Progress happened in space, this is what it might look like.
On a planet that has never seen the sun, a harvester hears a Voice from beyond. It's time to leave the oatfield. Mario and Caitlin escape the mind control of Planet Monday, following the Voice to unknown worlds where wonders and challenges await. Have you got what it takes...to be a legend?
About the Author:
Grace Bridges began to pen her first science fiction tale at the age of eight, during a homeschooling exercise in which her father asked her to write a story based on a prompt. It was an epic space opera called "Zebra in the Future". Writing prompts are still known to have such effects today. At fourteen she wrote a novella based on a local urban legend surrounding secret tunnels in a hill called North Head in Auckland, New Zealand. Around that same time ideas formed for a virtual reality story which eventually became Faith Awakened.
That tale took the next fourteen years to form completely and be published. She was going to write the sequel immediately, but was interrupted by a vivid dream which became Legendary Space Pilgrims. After that, since she was in Ireland at the time, she proceeded to write her third novel about Dublin's future. Now at long last she has returned with a sigh of relief to Godspeed, the sequel to Faith Awakened, while working on multiple short stories in between.
Grace is the owner and editor of Splashdown Books. She's a Kiwi of Irish descent living in beautiful New Zealand, and a chocaholic cat-lovin' Trekkie, Jesus freak, web designer, and all-round DIY gal who also takes care of the Lost Genre Guild Blog. Visit
Grace's Blog
for links to all her interests.

Purchase Legendary Space Pilgrims from
Amazon, Barnes and Noble, or Splashdown Books.
Check out these other member blogs this week for more info.