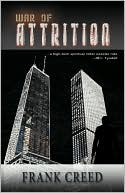 War of Attrition
by Frank Creed
This month, CFRB presents
War of Attrition: Book Two of the Underground
, by Frank Creed.
About the Book:
Set in 2037, Calamity Kid and his muscle cell are targeted by the One State's Federal Bureau of Terrorism and must survive alone in Chicago's Underground. At one-half its usual might, the cell encounters traps and snares set by a faceless opponent-and question the suspicious arrival of a bio-engineered One State traitor. Blamed by the media for the very violence they're trying to contain, CK and his fellow saints race for their lives to avoid the high-tech crosshairs aimed into the underground.
War of Attrition, Book Two of the Underground
, is the sequel to Frank Creed's award-winning Christian sci-fi/ cyberpunk novel,
Flashpoint
.
About the Author:
Frank is published in
Tales for the Thrifty Barbarian: An Anthology of High Fantasy
and has three short stories in
Light at the Edge of Darkness
. His Christian cyberpunk novel,
Flashpoint
, was released in September 2007. An avid fan of sci-fi and fantasy, Speculative Fiction is the vehicle that Frank uses to deliver his beliefs and spiritual philosophy to readers. Frank has created the "Lost Genre Guild" as an organization to help promote Biblical speculative fiction and assist fans in locating the best in the genre.
My Review
When you have written a masterpiece like
Flashpoint
, what do you do for an encore? Answer: top yourself and blow away all expectations with
War of Attrition
. Having read and extolled
Flashpoint
(missed it?
CLICK HERE
), it's hard for me to imagine anyone trying to skip the first book and read
War of Attrition
first. I wouldn't recommend it. I don't think you'd be "lost" or confused, really, but I do think you'd miss not only a great book, but a lot of the emotional backdrop that makes
War of Attrition
so much deeper and more complex.
It is very hard to review this book without giving spoilers.
Flashpoint
left one big question (what happened to Legacy, the main character's uncle?) and
War of Attrition
doesn't ignore this. It isn't answered in the way one might expect and it isn't answered in one sentence at the beginning and then thrown out. Even if I was trying not to spoil here, I couldn't do it justice. You really just have to read
War of Attrition
if you want to know what happened to Legacy. And if you read
Flashpoint
three years ago like I did, I bet you don't even need me to tell you this.
If you're looking for action, fret not, dear reader. Frank Creed delivers. And if that wasn't enough, there are major plot twists and
MORE
enemies to worry about for our hero, Calamity Kid. There's even something of an ambiguous, maybe-love-interest, but please do NOT go looking for a romance. This book is so far from typical Christian romance that it is sad to even have to use any of the same labels.
While anyone who loves a fast-paced adventure will love
War of Attrition
, I think it is especially recommended for male readers who dig on weapons and martial arts and beating the bad guys. My sixteen-year-old son was clamoring for this one, and the minute he finished it, asked me to ask Mr. Creed, "When is the next one?" Well, Frank?

Visit Frank's website at FrankCreed.com.

Purchase War of Attrition from
Amazon or Barnes and Noble.

Check out these other member blogs this week for more info.