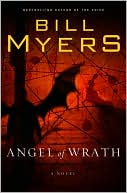 Angel of Wrath
by Bill Myers
This month, CFRB presents
Angel of Wrath
by Bill Myers.
This book reminds me a lot of Frank Peretti's ground-breaking books, "This Present Darkness" and "Piercing the Darkness". Mr. Peretti must believe that imitation is the sincerest form of flattery, as evidenced by the fact that he endorsed Bill Myers' series. I'd been hoping that Peretti would write another book like this for a long time, and since that hasn't happened, this was the next best thing.
This is the second book in Bill's "Voice of God" series (and I HATE coming in on the middle of
anything
), but I found it stood well on its own. The only thing I felt it lacked was a better explanation/excuse/apology for Jazmin. Not a single one of the young people in this book is a positive role model, but Jazmin is supposed to be one of the protagonists! I gave her a lot of leeway because she's deaf and orphaned, but she's so rebellious and bratty that it was very hard to like her. I assume there is a good reason that I missed in the first book, and Jazmin seemed like she was starting to come around by the end of the book, but it was too little, too late, for me. At least her uncle, Charlie, was a good, likeable guy that I could identify with, and he was a more central character than his niece. His love interest, the ex-FBI agent Lisa Harmon, was more than a bit caustic against Christians, which confused me because Charlie is a pretty overt Christian, but perhaps that was why she rebuffed his marriage proposal. At least Lisa was a good, honest person whom I could count on to do the right thing despite her contempt towards faith.
But the fact that I only fully liked one of the characters didn't stop me from turning pages. I think that says a lot about Bill's plotting skill. You don't have to like all the characters to enjoy this story. It's a well-paced suspense novel. If you like your villians to be "gray" or have some socially redeeming qualities, then this book may not be for you. If, however, you enjoy a classic good-vs-evil tale with high stakes and lots of action, then look no further.
Visit Bill's Website.
Purchase Angel of Wrath at Barnes and Noble and Amazon.

Check out these other member blogs this week for more info.