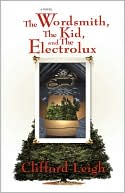 The Wordsmith, the Kid, and the Electrolux
by Clifford Leigh
This month, CFRB presents
The Wordsmith, the Kid, and the Electrolux
by Clifford Leigh.
About the Book:
"I was not certain if the whole world I had fallen into was upside-down and I was right-side-up, or vice versa."
Young Corey's secret life began the day his father refused him a cup of coffee. It drew him, again and again, to the coiling dragon on his father's green Chinese box and to the Carnival Surprise of the ice-cream man, Mr. Good. But he had no idea his desires would propel him with a whoosh into the strange, dark closet...or a headlong, terrifying fall and the adventure of a lifetime. It was a strange day...but nothing like the night Corian Griffin met the Electrolux.
Fantasy. Adventure. Surprise. A tale of growing up and growing wise.
Review
:
This book is very well written and thought provoking. I'm not sure what the intended audience is because it seems too deep for a children's or YA book, which from the title, cover, and blurbs, I assumed it was. I think a lot of adults might even get lost in some of the depth, because this is simply not the lightweight fantasy it appears on the surface.
I made the mistake of reading this book when I had a toothache. NOT recommended. The main character has one too and the excellent descriptions just compounded the real pain.
It's very hard to say a lot about this book without spoiling the story. On the surface, it's about a selfish brat who gets sucked into a parallel world by a vacuum cleaner. In this world, everything is represented in pictures, many of them odd and fantastic (giant baby terrorizes whole household) but by the end it's clear that the pictures are all shadows of things from the real world. Nothing is as it seems. Not even the book title. You don't truly understand it until the last chapter.
I think that younger readers would get frustrated with this book by the middle, so I wouldn't recommend it unless they are very mature (at least 16?) and can follow intellectual apologetics. Definitely not for dummies.
It will be very interesting to see what happens in the sequel,
Islandship River
.
Visit the author's website and the WKE Blog.
Purchase The Wordsmith, the Kid, and the Electrolux at
Amazon, Amazon Kindle, or Barnes and Noble.

Check out these other member blogs this week for more info.